Let There Be Light.
Most ATM robberies and assaults occur at night between 8:00 pm and midnight. The majority of victims claim they never saw the assailant approaching. The ATM and Night Depository environment should have adequate lighting so users can perform reading and writing tasks, as well as enjoy safe passage to and from the machines. Lighting should evenly illuminate the ATM and Night Depository, serving as a deterrent to criminals and permitting the transaction to be clearly recorded on a video system.
The professionals of Dodgen Security Consulting, LLC have performed thousands of ATM lighting and landscape inspections for financial institutions across the country. Our extensive site surveys let our clients know if their ATM and Night Depositories meet standards. Our detailed reports include light meter readings, photographs of landscape issues, and site diagrams.
Sample Documents
Click the image below to view our sample gallery.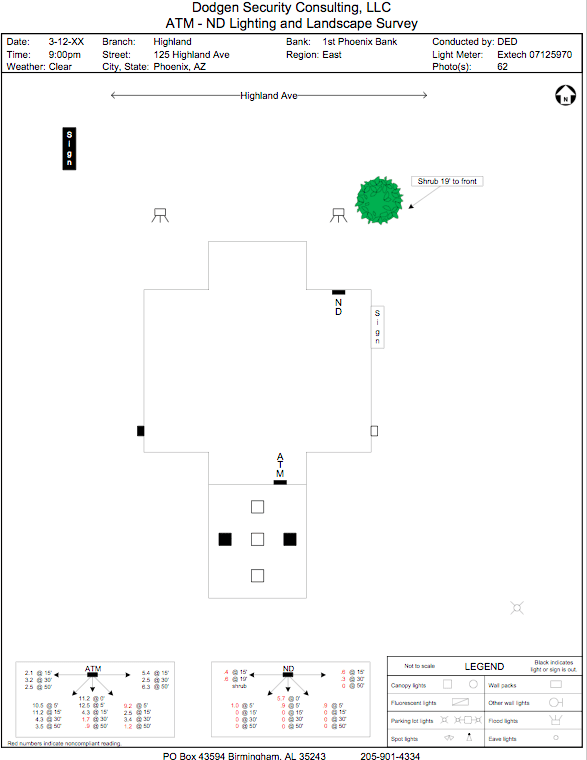 ATM Surveys
Site Diagrams Depict:
Building features
Placement of lights
Condition of lights:
– out
– dirty
– cycling
Landscape issues
Other hazardous conditions
Having an accurate depiction of the conditions at each site can assist clients in making cost-effective decisions to create safer environments for their customers. Our loyalty is to our client, therefore we do not sell lighting equipment. Our purpose is to provide clients with an objective and accurate depiction of the lighting and landscaping conditions at each ATM location.