Robbery: Plan. Prevent. Prevail.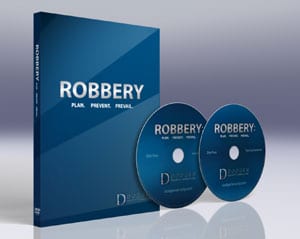 This program covers it all. The training video provides financial institution employees with tips for preventing robberies, the safest way to respond to a robbery, and what to do immediately following a robbery to assist investigators. Additionally, proper opening and closing procedures are outlined and demonstrated. Take an insider's look as you listen to convicted bank robbers describe their means, methods, and motives.
Whether you are looking to train a small group or your entire organization, the training provided in this set will prepare your employees and leadership for a variety of situations. If you are interested in offering this training system-wide to all your employees, simply contact us to learn about special pricing for license agreements.  Contact us today! 
In The Box:
Disk 1 – High Definition Training Video (DVD)
Disk 2 – Trainer's guide (PDF)
Disk 2 – Student guide (PDF)
Disk 2 – Powerpoint presentation (PPT)
Disk 2 – Participant test (PDF)
Disk 2 – Robber Description Form (PDF)
---
Order Robbery: Plan. Prevent. Prevail.